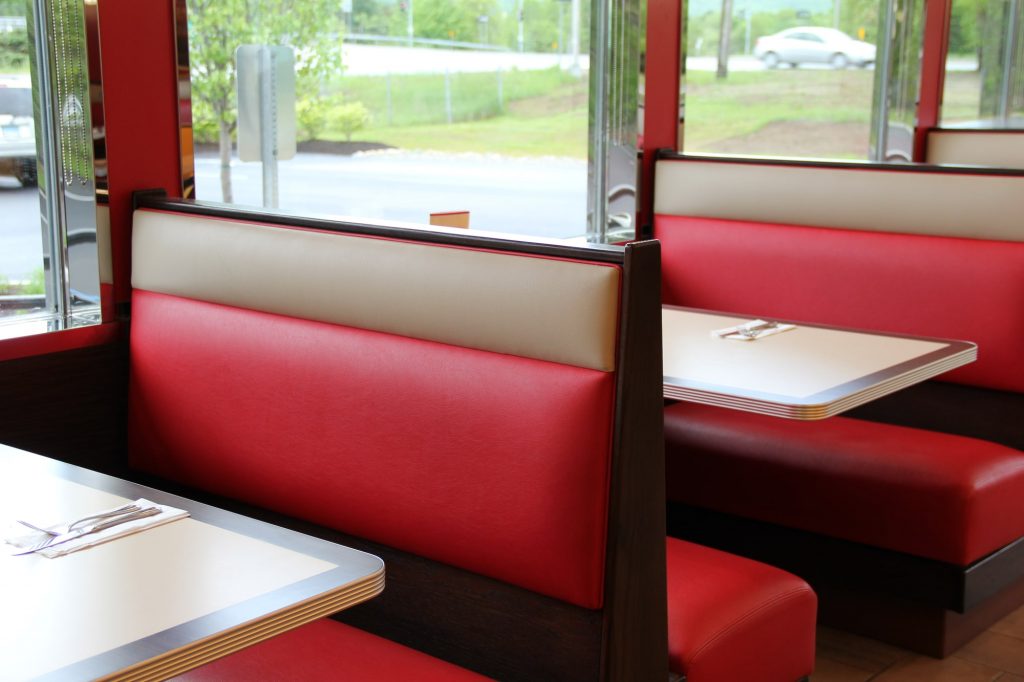 Restaurants experience high human traffic because of food services. Many people enjoy meeting up at restaurants to enjoy a good meal. This high human traffic accelerates the wearing out and tearing of seat covers in the restaurant. Since no customer enjoys sitting on torn seats, the management considers booth seating repair and reupholstery. Booth seating repair saves the business a lot of money as compared to buying new booth seats. When repairing, you need to go for the best quality leather so that it can serve you for many years. There are cheaper versions of leather but end up wearing within the first few years. Quality leather is expensive but is a worthwhile investment.
Benefits of Booth Seating Repair and Re-upholstery
Old Booths get a Fresh New Appearance
Once the booths begin to wear out, the appearance of the restaurant changes and looks old. Or if you buy off a business that has not been running for several years, you are likely to find old furniture. The good news is that the old furniture can be renewed to look fresh and new through the upholstery. This can be achieved with the help of an expert in the field of upholstery. Find someone who is highly experienced in this field. Do not be attracted to cheap and unprofessional technicians because you will get poor services. It will cost you extra money to correct the poor service.
Saves you Money
Buying new booth seats in a restaurant can be a nightmare, especially if the restaurant is big. The good news is that, here at Singapore Upholstery, we provide booth repair and re-upholstery services. You will get new and fresh booth seats because our upholsterers will remove the old and torn leather surfaces and replace them with new covers. The color of the booth seats will be maintained. We will look for the leather material that looks similar to the existing one. Leather is the most preferred type in restaurants because of its durability and easy to clean. It does not store stains and dirt like other fabrics.
The Booth Seats are Preserved
The booth seats are preserved for extra years. You will not need to buy new furniture. All you need is to get new covers and new cushion materials. At the end of the repair service, your restaurant will look fresh, new and it will attract more customers. Customers love comfortability. If you want to attract many customers and enhance your brand, consider reupholstering your booth seats. Booth seats are what customers will see first when they enter a restaurant and gives the first impression.
Waste Management
With the increasing rate of restaurants opening, you can imagine if they were to throw their booths. There could be a lot of waste materials going to the dumpsite. This is not environmentally friendly. To protect the environment, businesses are encouraged to reuse and recycle materials. This is why upholstery is a good process for reducing waste. You get to keep your furniture and get new covers. The booth will look like the original one because the leather covers are chosen according to the existing colors.
Improves Comfort
Worn out and flattened cushions are uncomfortable. Customers want to feel the comfort of resting is a chair when enjoying the meals. After running the business for many years, the booths cover start wearing out and flattening of cushions. To gain the original comfort, you will need to reupholster the booth seats. This is beneficial to your business because you will attract many customers. Consider reupholstering those pieces of old furniture instead of buying new booth seats for your restaurants. Buying new booths is expensive and can be a nightmare.
To get the best of this repair service, work with professionals in this field. Check their background and find out the reviews from other clients. This will help you to choose the best upholsterer that will give quality and durable service. The expert will guide you into choosing the best leather cover and fit it well on the booth seats. Do not be lured by cheap offers because you will end up receiving poor reupholstery services.
Contact us today to receive your quote on booth seating repair and re-upholstery.