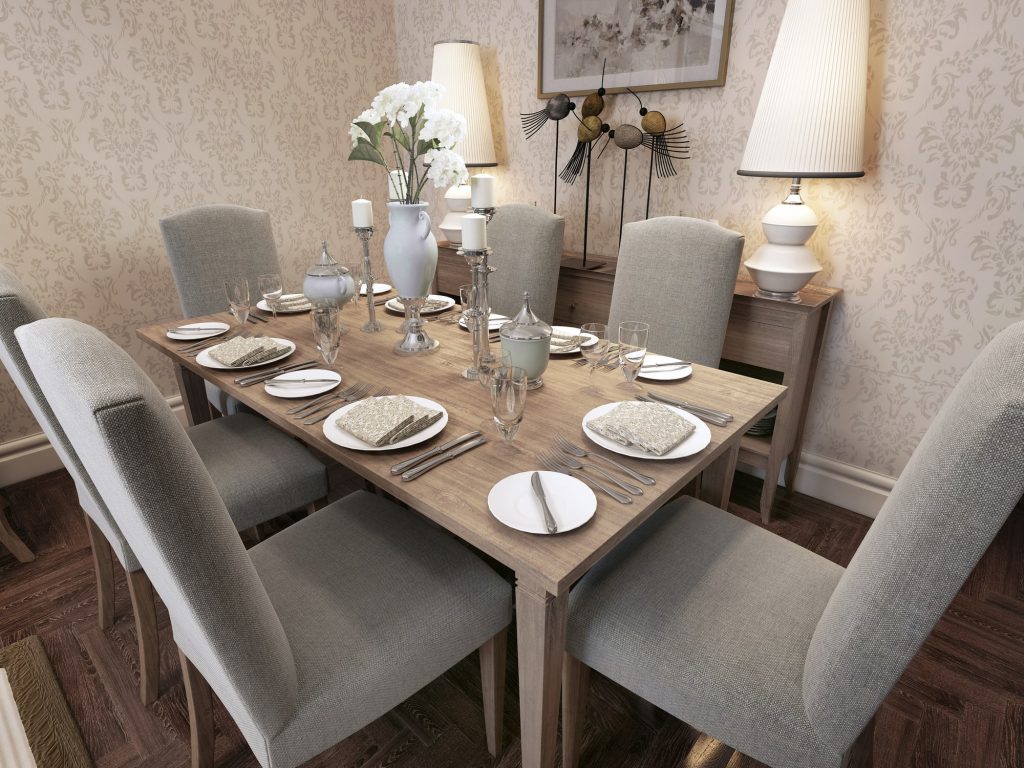 Reupholstering the dining chairs is a good home project because it gives the room a makeover and an instant face-lift. Dining chairs are highly vulnerable to staining because of food and stains. After using them for a while, they become dull and unattractive. To get that new and clean look, you will need dining chair upholstery. Besides, after using the dining chairs for many years, the cushion can flatten making the chairs uncomfortable. So, the dining chair upholstery will help you have new and padded chairs that are comfortable.
The total cost of the dining chair upholstery depends on the fabric and cushion material that you will choose. If you are doing DIY, you will experience a challenge when removing the old fabric, especially if it is held down by many staples. You will need a staple gun, pliers, and scissors. To save yourself from having these struggles, consider hiring an expert in this field.
How to Select the Best Fabric for the Dining Chairs
The type of material is a significant factor. Types of the material include fabic, leather, microfiber, PVC, and velvet among other materials. The materials determine how frequently you will need to clean the chairs. Fabric material will need professional cleaning because regular home vacuuming is not efficient enough to keep it clean. Cotton and polyester are more used for dining chairs because you can easily clean them with water-based solvents and cleaners. This information is found on the fabric and you need to check before buying a chair fabric.
Stretchy materials are not suitable for dining chairs. It stretches out quickly and will become loose after using the seat for several months. This means that you will need to replace the material frequently which is expensive. Consider a non-stretchy material and it will save you repair and maintenance cost.
When choosing the fabric colors, you will select a solid or pattern. This depends on what you would like to achieve with the dining chairs décor. There are very many patterns in the market so you need to take time and go through as many types as possible. Otherwise, if you choose from a few you may see something better. Alternatively, you can get suggestions from a professional upholsterer. A professional will help you decided on what suits your home the best.
The cleaning and maintenance aspect is important. Bright fabrics will attract dirt and will need regular washing as compared to dull colors and pattern fabrics. Consider a washable and an easy to clean fabric. Food and drink spillage at the dining table is inevitable. A washable fabric will make it easy for you to clean the fabric and keep the chairs neat. You can check the cleaning instructions attached to the fabric before buying.
You will need to know how much fabric is needed. So, you need to hire a professional to measure the size of your chairs and estimate the size of the fabric that you need. This will prevent the mistake of buying a small fabric or large fabric that will go to waste. Ordering enough fabric will help to cover the dining chairs perfectly.
What to Expect
The old padding will be removed ad the old fabric will be removed as well. If the padding is still in good condition, the new fabric will be fitted according to the size of the padding. If the padding is worn out, you will get a replacement. Also, you can get a replacement of the foam with a high-density type.
The fabric will be sown tightly on the padding. All the edges are covered with the fabric and then the padding is fitted back on the chair. It is held in position with staples or screws. this step is important because it helps to hold the padding or cushion in place. This process is repeated for every chair and you will have good and neat dining chairs.
You need to choose professional technicians that are registered and have good work records. This will help you have confidence in the upholsterer knowing that you will get a good job done. Check online reviews for different upholsterers to decide on which one is the best. Here at Singapore Upholstery, we have the best professionals who will give the best upholstery services. Talk to us today.