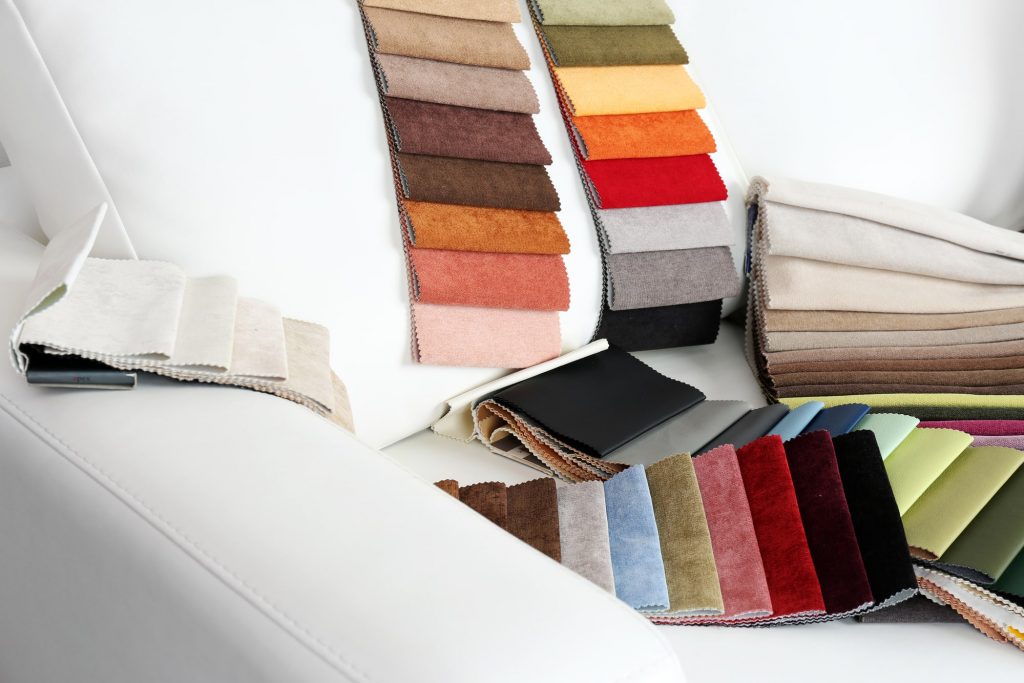 After identifying that your furniture needs upholstery fabric, the next thing is to decide on which fabric to use. You should consider is you many children or pets because fabrics such as silk velvet are quickly destroyed. Also, silk velvet is not suitable for an area with high human traffic. Living rooms and office spaces need a durable and long-lasting fabric to withstand high human traffic. Find out how the fabric needs to be cleaned before settling for a specific one. Some need intense cleaning while others need light cleaning. Others fade when exposed to sunlight while others do not fade because they are resistant to UV rays.
There are a lot of upholstery fabrics available in the market. So how to get the one right for your living room?
Tips to guide you in choosing the best upholstery fabric for your furniture
Durability
Durability is an important factor to consider because you will need a fabric that is resistant to wear and tear. Our upholsterers will help you with the rub test for different fabrics to help you know the possible duration of the fabric. If a fabric needs more rubs to wear out, it is an indication that it will last longer than others. This test also helps you to know which fabric is resistant to UV rays, water resistant, and stain resistant. Water resistant fabrics last for long because it does not allow water seepage that can easily destroy the fabric. Silk velvet is not recommended for a home with children and pets because the fabric destroys quickly. Furniture in bedrooms can have such fabrics because there is minimal human traffic.
Maintenance
Fabrics that need dry cleaning are better because the maintenance is manageable. Traditional washing with water will need many days of drying and the sofa may not dry out completely. Dry cleaning is the most recommended because it will leave the furniture dry and it will preserve the condition of the fabric. Upholstery cleaning services are highly beneficial because it helps to keep the fabric in good condition and it will prolong the longevity of the fabric.
Color
Lighter colors are more inviting and lighten up the mood. Dark colors are good at hiding dirt and wear. Highly recommendable for a home with children and pets. You will also need to consider the color of your interior décor and choose a color that will blend well. Color coding is one of the best tricks of getting the best out of your interior décor. You can book an appointment with us and our upholsterers will be able to guide you through the color coding scheme. This will help you make an informed decision.
Style
Style and color are important aspects of the upholstery fabric. The style will upgrade or downgrade your interior décor. The style of the fabric should be harmonious with the interior décor. You need to carefully choose the style of the fabric to get the best results of your interior décor. There are many styles available. So you can work with a professional to decide on the most suitable style for your home. Our upholsterers are highly trained and will give the best advice on which style to choose for your home or office space. Style is important because of it what you see after noticing the color.
We use these tips to help you decide on the best sofa upholstery fabric for your furniture. A good fabric will make you have a long term use of your furniture and easy maintenance routine. Durable fabrics are highly recommended because they are cost effective. You will not need to have a reupholstery service soon. The longer it takes; the more money you will save. This is advantageous to you.
If you want the best sofa upholstery fabric services, work with trained and registered upholsterers. It will build your confidence in the technician and know that you will get the best fabric. Inexperienced personnel has limited knowledge of different available fabrics in the market. They are many and you would want to choose one which will serve you for many years.
Contact us today to find out more about the sofa upholstery fabric services.